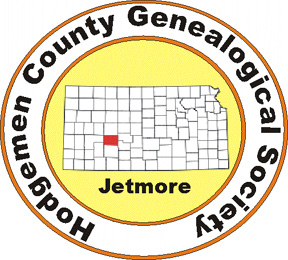 The library will be happy to assist with genealogy requests.  We forward your inquiries or contact information on to members of the Hodgeman County Genealogical Society.  A wealth of Hodgeman County Genealogy holdings such as birth and death records are available at the Jetmore Public Library.  Anyone interested in joining the Hodgeman County Geneaogical Society is asked to contact the library for more information. Some people have very specific reasons for tracing their family tree. Others jump into family history research without giving it much thought. Knowing why people research their ancestors can be a source of inspiration and support for genealogists.
Genealogy can provide a doorway to the past. 
Hodgeman County was organized in 1879, and was originally spelled "Hodgman", after Captain Amos Hodgman, who was killed in the Civil War.  Later, through clerical error, the misspelling was entered in statutes, thus the county's legal name became "Hodgeman."  Jetmore is the county seat.  Other communities within the county include Beersheba, Bosse, Duncan's Crossing, Gray and Orwell.  

Hodgeman County
Genealogical Society Holdings
Please contact the Jetmore Public Library for help with your genealogical requests.  We are happy to help!