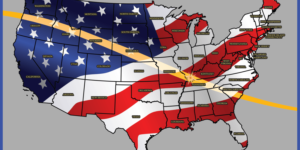 The library was a sponsor of the Great American Eclipse Safety Glasses giveaway in August, 2017.  We gave away 1,000 pairs of safety glasses between July 31 and August 17.
By now you've probably heard about The Great American Eclipse that will sweep over the country on Aug. 21, 2017. The total solar eclipse will pass over the U.S. along a stretch of land from Oregon to South Carolina. Viewers in the path of totality, which spans about 70 miles, will see the moon directly pass in front of the sun, briefly turning day into twilight. Skywatchers outside that path will still see a partial eclipse, when part of the sun will still be in view. No other country will get to see the total eclipse this time.
Looking up at the sun, even when it is partially covered by the moon, can cause serious eye damage, which is why Eclipse watchers will need special solar-viewing glasses. It's not the eclipse that is dangerous to observe, it's the Sun! The Sun's visible (and invisible) rays can cause serious damage to the sensitive tissues of the eyes, often without being immediately aware of it! Normally, our common sense protects us from looking directly at the Sun for more than a second, but during an eclipse, astronomical enthusiasm can overwhelm common sense, and people can wind up staring at the Sun for too long.
The Jetmore Public Library is one of 4,800 library organizations throughout the country that will be giving away free glasses as part of an outreach project funded by a grant from the Gordon and Betty Moore Foundation to SSI, a nonprofit corporation focused on science research, education and outreach. The project is also supported by Google, the National Science Foundation (NSF) and NASA, according to a statement from the SSI.
We will be giving away the Eclipse Safety glasses on a first-come, first served basis beginning July 31. In the mean time, please follow these links to learn more about the Great American Eclipse and how to keep your eyes safe whether you are viewing the total eclipse or the partial eclipse. Be a part of history by participating in this rare opportunity.